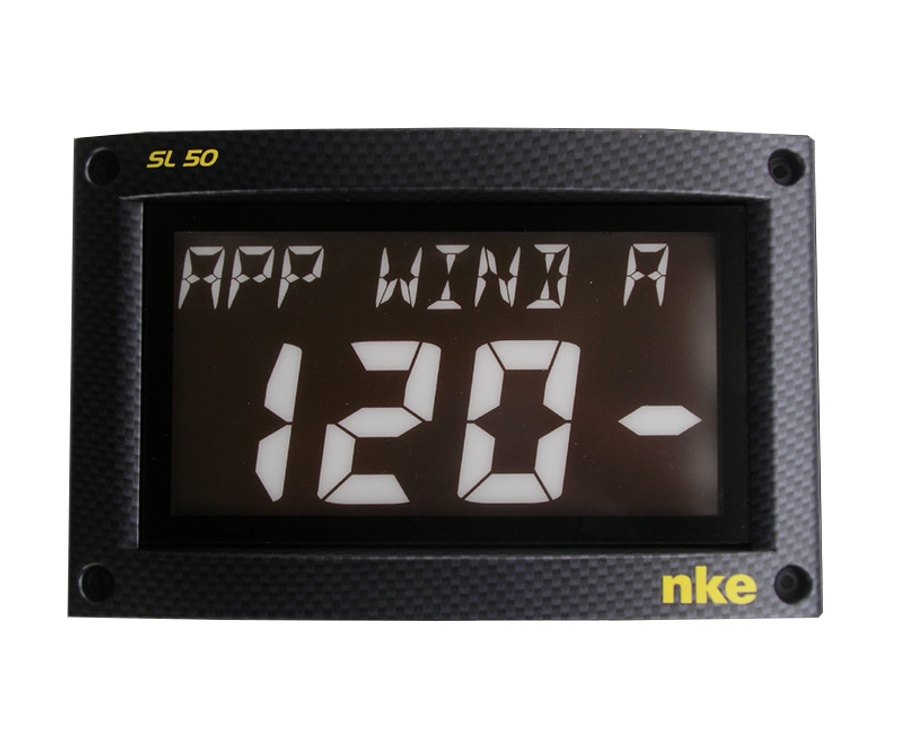 [90-60-445]
Large, high quality display, height of the characters: 50mm
All available functions on the Topline bus can be displayed on the high quality screen with 50 mm heigh digits. The LCD high definition technology offers brilliant clarity with a wide reading angle night and day.
The functions and back lighting level in red or green can be selected from a remote control (wireless or wired).. 6 languages are available: French, English, Italian, Spanish, German and Dutch
This display is particularly suitable  for boats of 45 feet and above.
Two bezel colours available : white [90-60-445] or carbon like [90-60-472]
 CHARACTERISTICS
Power supply: 10 to 16VDC
Consumption: 20mA without lighting, 50mA with lighting.
Waterproof protection: IP67
Weight: 1.150kg including cable
Bus cable: Ø 5.8 ± 0.3; weight = 50 g/m.
Dimensions: H = 150mm; W = 235mm; D = 35mm
Operating temperature: -10°C to +50°C
Storage temperature: -20°C to +60°C
Horizontal reading angle > 120°
Vertical reading angle > 90°
Digit height : 50 mm for the value and 20 mm for function label.
 FUNCTIONS
A number of functions can be displayed such as:
Mag. heading

Apparent wind angle

Apparent wind speed

Depth

Boat speed

Max. and average boat speed

Man Over board bearing and distance

Configuration

Bus voltage

VMG

CMG

True wind speed

True wind angle

True winddirection

Heading made good
Estimated distance

Estimatedangle

Total log

Trip log

COG-SOG

Longitude and latitude

XTE

Optimum wind angle

VMG optimum angle

CMG optimum angle

Upwind performance

Performance against polar

Target boat speed

Heading on next tack
 USER GUIDE
SEE ALSO