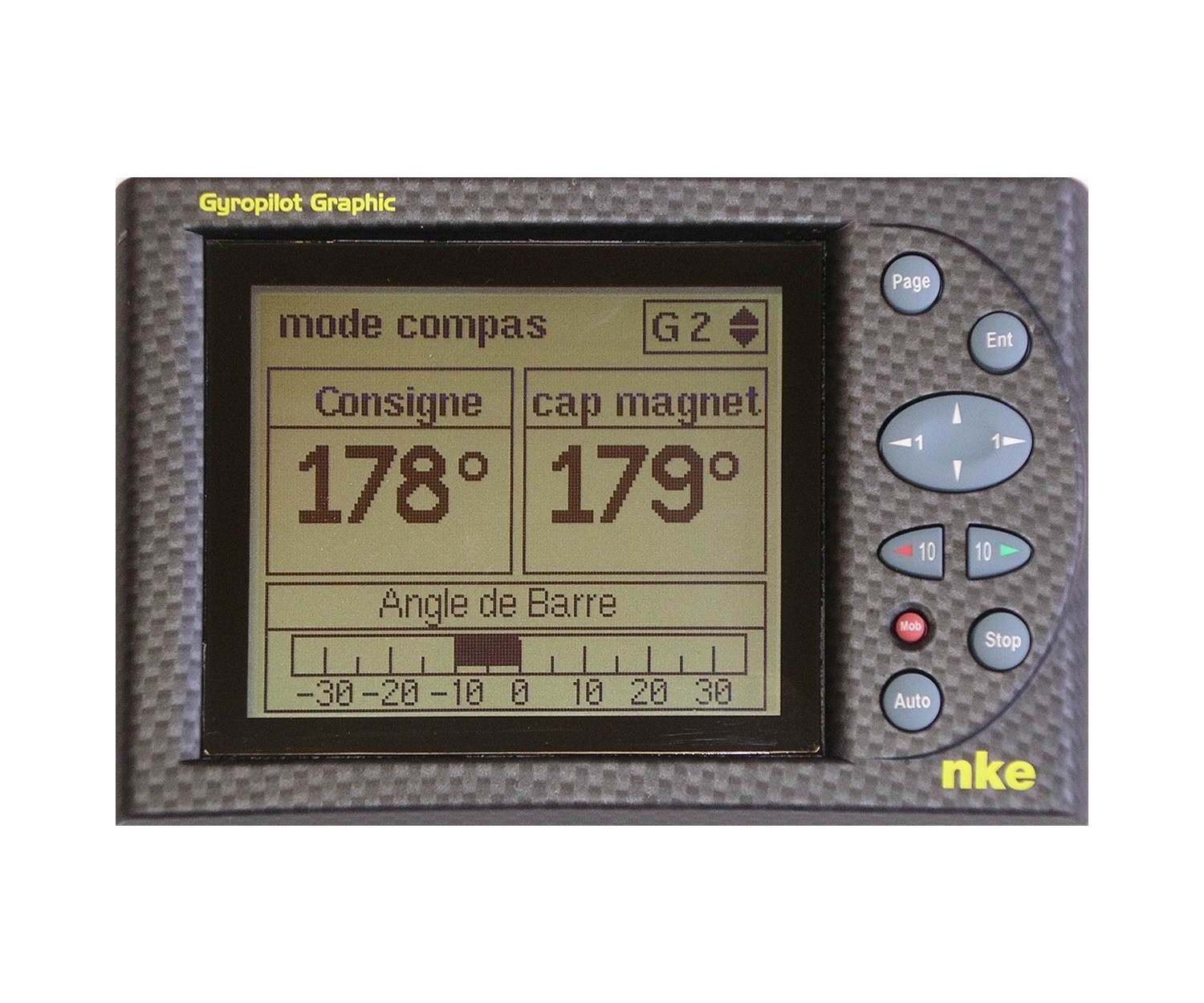 Pilot control with large graphic screen. This pilot control is also a multifunction unit which simultaneously displays 1 to 4 data and allows every sensor to be calibrated.
Gyropilot Graphic is a multifunction display which includes the nke autopilot control. Its graphic screen offers many displaying options.
Gyropilot 2 control settings are fully detailed on screen

User setting for the display of 1, 2, 3 or 4 channels.

Scrolling menu with explicit display of parameters and setting options. 6 languages available: French, English, Italian, Spanish, German and Dutch
A wireless or wired remote control is available to scroll the channel to be displayed. Two colours available 
Power supply: 10 to 16VDC
Power consumption: 30mA without lighting, 50mA with lighting.
Tightness: IP67 – Weight: 740g, with cable
Bus cable: Ø 5.8 ± 0.3; Weight = 50 g/m.
Dimensions: height = 118mm; width = 181mm; depth = 32.5mm
Operating temperature: -10°C to +50°C
Storage temperature: -20°C to +60°C
Reading angle (horizontal) > 120°
Reading angle (vertical) > 90°
Ref. 90-60-348 (white), ref. 90-60-352 (carbon aspect)
Data displayed in pilot mode:
Course to steer

Target heading

Rudder angle

mode

gain value
Selection and display of 5 pilot modes:
rudder mode

Compass mode

Apparent wind mode

True wind mode

GPS mode
Including:
Pilot control via back lighted keys

Direct control of the gain and "steer to" value by steps of 1°

Direct access to settings and alarms

NMEA input data display

Setting saving upon sailing conditions
Navigation data display:
1 to 4 values per page simultaneously displayed

nke BUS or NMEA data displayed in analogue or digital format
Save user configuration of pages:
Direct access to sensor calibration and alarm settings

Energy saving management thanks to the display of course to steer and power consumption    
True wind and speed over ground option, ref.: 90-60-296
Pilot's wireless remote control, ref.: 90-60-258